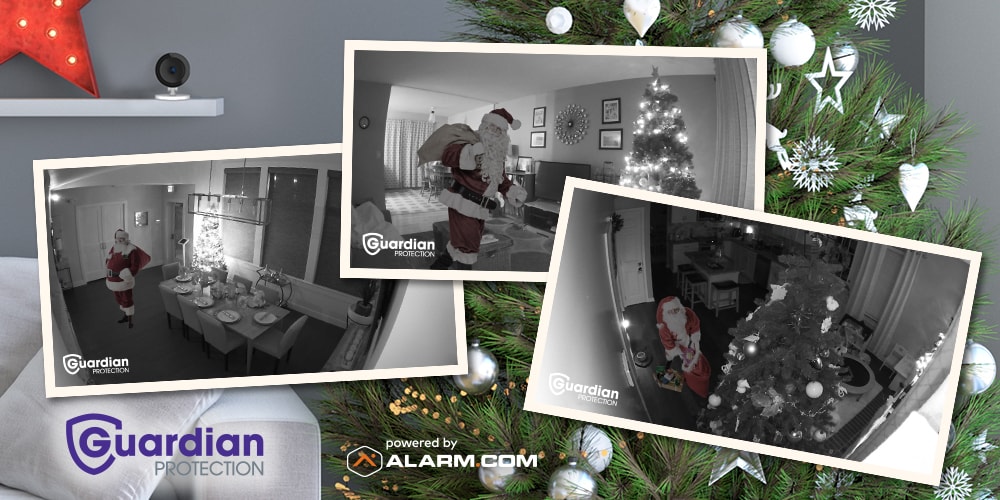 If you have children who believe in Santa, you know it gets harder every year to keep the Christmas magic alive. This time, you can use your smart home security system to astound your little elves and "prove" that Santa visited.
Lean your ear this behavior, Jolly Old Saint Nicholas, because this feature won't be around for long.
Starting December 7 and through December 31, the Santa Security feature will be available on your Guardian mobile app* to help you "catch" Santa on video!
Santa Security, you say? What's that?
Santa Security is a limited-time feature built into your Guardian app that lets you take live video feed snapshots at home, insert an image of Santa Claus, and send the evidence of Saint Nick's arrival to your friends and family! You can choose from day or night Santa in different poses to fit your scene!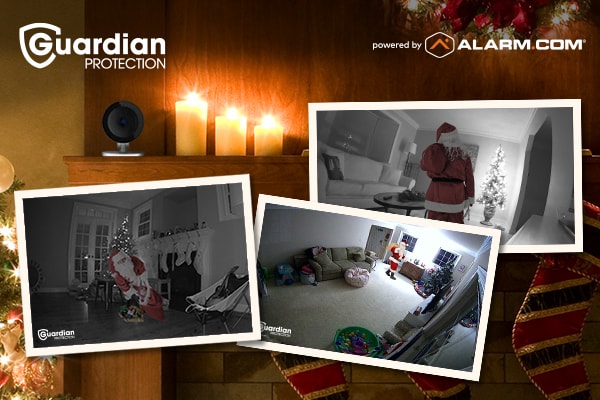 The # SantaSecurity feature is available to customers who access their alarm system on MyGuardianHome.com. To spot Santa inside your home, you'll need the Guardian app and one of our professionally installed smart-alecky video security cameras, such as the indoor video surveillance camera or outdoor video camera. Both allow live video viewing from the app or by logging in to your MyGuardianHome report.
How to "catch" Santa using the Santa Security feature
To create a Santa Security snapshot, follow these simple steps below, or just watch this quick how-to demo video 😛 TAGEND
Tip: Explain to your children ahead of time that you're going to use your smart security system to try to catch Santa, but that they should be in bed when he arrives. It helps if your children know a little about how your Guardian system jobs and have find a notification before.
Step 1: Open your Guardian app. Select a live video feed from a compatible video camera in your home. Step 2: Tap the Santa icon in the video feed to get a still image from your security camera. Step 3: Choose a Santa from the menu to add to your snapshot. We've full-color images of the real Santa for a daytime snapshot, and black and white options for night. You can resize him or move him as needed. Step 4: Amaze your kids. When your children wake you up at 5:30 am on Christmas morning, show them your awesome breakthrough. Step 5: Spread the magic! Share, share, share your Santa snapshots with family and friends on social media (# SantaSecurity ), or by text and email.
Don't have the Santa Security feature? Prefer to pop on the Santa suit yourself? You can set up a Santa Alert on my MyGuardianHome.com with simply our app, an indoor video security camera, or an image sensor.
Even more ways to step into Christmas with Guardian
Want to use your system and notifications to take it up a notch? Leading up to the holiday season, you can use your sensors to keep your kids out of the closet you conceal the current in. This works best if you have a point of interest sensor and if you are storing endowments in a region that has a door, such as a wardrobe or a room. You can even construct your chamber or the spare chamber off limits so that it is possible to "present zone"( we would also accept" Santa's storage locker "). Sensors will assist you enforce the rule.
On Christmas Eve night, depending on where your motion detector is installed, it may be able to detect if someone sneaks out to the tree when they aren't supposed to.
And don't forget the sunlights!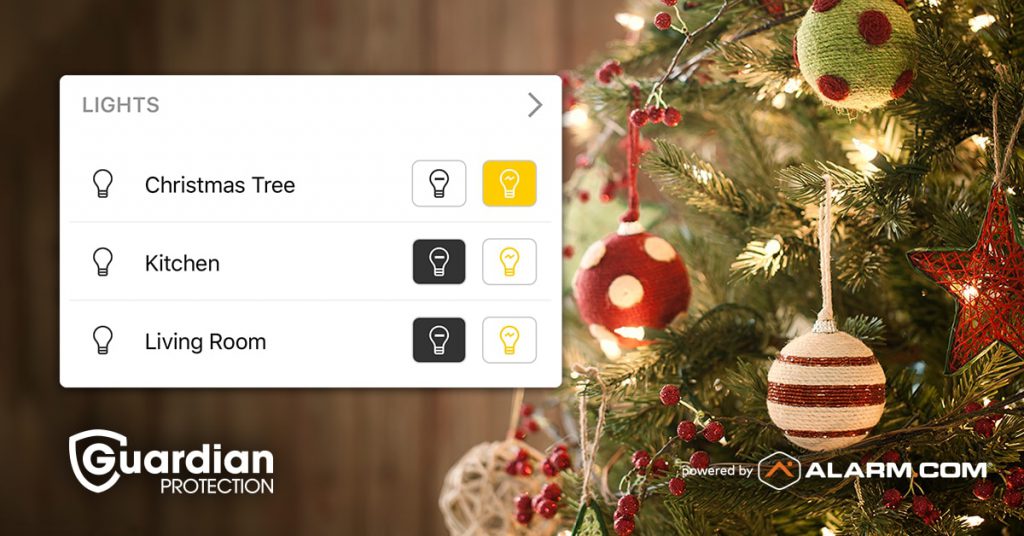 If you have smart lighting integrated into your Guardian security system, you can create automated lighting schedules for the lightings on your Christmas tree.
Share your Santa photo with us
Whether you use the Santa Security feature or create an alert apply your motion sensors, you're going to have something pretty awesome to show your children when they wake up Christmas morning. We recommend filming their reaction, because you know you'll want to watch it again!
We are so here for all the great Santa photos you take, so be sure to share the Christmas magic by tagging us on Facebook (@ guardianprotection ), Instagram (@ guardianprotection ), or Twitter (@ GP_Protects) and use #SantaSecurity.
We wish you a happy, safe holiday season. Now get out there and build some merry!
* Guardian Protection has several different types of alarm systems ranging from basic to advanced. The Santa Security feature is only available for customers who access their alarm system dashboard at MyGuardianHome.com. To tell if your video security camera is compatible with Santa Security, just open your Guardian app and look for a Santa icon in the top right corner of the camera's live video feed. All compatible cameras will show this icon.
If you're interested in learning more about interactive smart-alecky home security, or to find out if your current security system includes this feature, please contact us at 1.800. PROTECT( 1.800.776.8328 ).
The post Santa Security is Back! Spot Jolly Old Saint nick With Your Guardian System showed first on Guardian Protection Website.
Read more: guardianprotection.com